8 Crucial Things You Should Know Before Travelling Abroad With Your Electronic Devices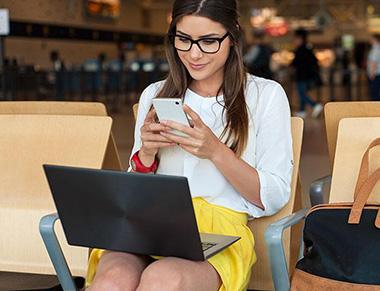 If you are planning to go on a trip abroad, you will surely take your electronic devices with you. You should learn the following travelling tips if you are going to use your phone, laptop or a tablet. Usually, there are several differences in usage of electronic devices in your native country and abroad, especially when it goes about the difference between sockets and SIM cards.
That's why in order to insure a secure trip, you need to prepare different additional devices like international plugs, maps and data cards for your smartphone. Those recommendations will help you to prevent various unpleasant situations that can occur with your electronic devices, whether it is a loss of your smartphone or some personal data.
Make Sure to Learn What Plugs You Will Need
As it was mentioned, the types of electrical sockets vary from country to country, that's why you have to take different types of plugs with you. You can check the information online as there are numerous websites with this kind of knowledge. For example, check the PlugsMap website for better understanding. Of course, don't forget to take a charger with you and make sure you have it on board of the plane also, as there can be places to charge your devices in airports and terminals.
Your Regular Data Plans Can Be Very Expensive Abroad
Remember to switch off the 3G connection and make sure all the push services and notifications are disabled. Otherwise any usage of your data plan will turn out to cost a pretty penny. Generally the costs for international data usage are very expensive, so it's better to buy international data SIMs.
Here you have the following option: if you are planning to spend your trip in one state or at least are going to spend here bigger amount of time, you may prefer to buy a data SIM for that particular state. You can also ask your provider for the advice referring the company you should choose to buy your SIM in.
Try to choose the most suitable way according to your financial situation and other preferences. Remember about getting the SIM of the corresponding size for your smartphone or other devices! There can be micro SIMs, which can be used in iPads and full size SIMs for the majority of devices. It is also important to bring a tool for SIM removal with you.
Of course, you will buy a SIM for additional security, but you can also use the local Wi-Fi hotspots to connect to the network. While using them, you should not forget to save some information, for example, maps that you will need later. Add some entertaining content as well.
Offline Maps
There is a big amount of the offline maps that you can either find in apps or just download them from the website. Those kinds of apps are available for the smartphones as well as for the tablets. Remember to download them in advance so that you can easily find your way without data access later, using GPS.
Online Travel Guides
There are multiple websites and apps, which you can visit before or on your trip, where you can find useful information about all tourist infrastructure the city has, including bars and restaurants. Don't forget to check the applications, which different tourist companies have, and download all the useful information beforehand, there can be guides in PDF format.
Wireless Peripherals
Sometimes you may think you won't need any additional devices like a computer mouse or a keyboard. Maybe you just want to reduce the amount of your luggage, but you'd better not think like that. What if you will need to do something for your work or take part in an online conference and your devices will not be enough for it. So, just in case, take some peripheral devices with you.
Protect Your Devices
There are two things you should know. First, you will need your free hands in the airport and second, your devices can be easily affected by outside factors.
Don't forget that your tablets should be in a case for your convenience and their safety. Maybe you don't use any cases in your everyday life, but remember that everything is different when you travel. In the airport or any places like it, you will need to have your devices in bags, so they can be carried not by you but by the proper personnel. Your devices can as well be affected by drastic temperature change. Make sure your tablets are insulated in order to protect the battery and other inner mechanisms.
Protect Your Personal Data
A lot of places, which you will visit, are designed to attract tourists. It's no wonder that in places with big amounts of people there going to be big amounts of thefts. You should follow these tips that will help you to overcome unpleasant difficulties.
Devices should always be carried near your body.
When using these devices in public, always stay concentrated and don't get distracted.
Your devices should be protected by an insurance company.
If you don't use your devices, keep them protected and lock them in your bag. You might also consider the risks of leaving your applications logged in on your device.
Remember to log out of all the applications you use. Also do not use the accounts with some sensitive information while using a public Wi-Fi hotspot.
Insure the security of your devices when you leave them.
All your information should be synchronized with web storages like Dropbox.
Please install appropriate apps that will help you either delete information from the lost device or find it.