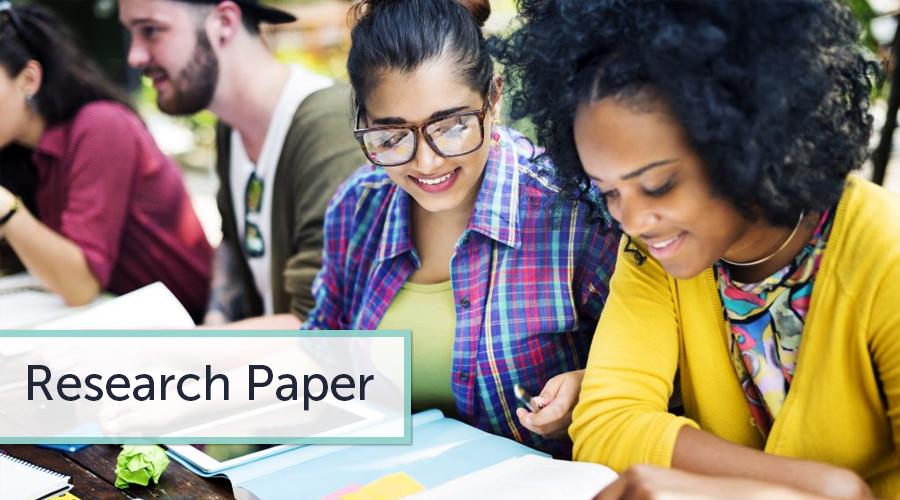 Writing a Research Paper
Writing a research paper is one of the most difficult tasks you may face in your life. At times, you will have to write a research paper on a topic provided by your teacher. At other times, you will have enough freedom to choose the topic on your own. In any case, everything starts with a topic. You cannot proceed with writing your research paper, until you know what you are going to discuss and describe in your work. When you have chosen the most suitable topic for your research paper, you will need to do some research. Talk to your teacher and find out how you can best approach this task. It is an extremely important part of your research paper. You definitely need someone's professional advice. It may happen that your teacher will disapprove your topic, so make sure you clarify all issues before you are too far into the process of writing.
Now when the topic is approved, develop a comprehensive research question. Writing a research paper without a research question is the same as writing an essay without a thesis. This is one of the key points, main elements of your research paper.
Step by Step Research Paper Writing Guide: Main Principles of Writing
The most typical format for a step-by-step research paper is known as IMRAD. It is a shortening for the main constituent parts of a research paper, namely introduction, methods, results, and discussion.Below you can see a general outline of the research paper structure in a step-by-step research paper writing guide:
Title page
Title of the paper: the readers build their expectations here.
Author(s): the names of one, two or more primary authors are mentioned here. There can be some other authors who took part in reviewing the work, data analysis, or design of the study. It is important to have specific details about the authorship.
Keywords: in accordance with the journal.
Financial Organization and Equipment Support (if any): particular details about the companies which provided aid and support to the research project.
Corresponding Author: all details about the author as a primary contact for those interested in more details about the project.
Conflict of Interest (if any): explanation of available conflicts of interest.
Abstract: This part is a synopsis of the whole text. Being a text of a particular structure, it belongs to important components of research paper and stands in line with such typical parts as introduction, methods, objective, results, and conclusions. Note that abstracts can be not structured for case reports, reviews, articles, and similar papers.

Introduction: This part gives the answer to the question about the reasons for the study and presents the paper background, scene, and main foundation.

Methods: This part is about the principles of doing the study. It tells about:
population (if any)
setting of the study
study context
study design
interventions (if any)
strategies
key variables of the study
procedures of collecting data
methods of outlining and analysis
Results: presentation of what has been done in the step-by-step research paper:
recruitment report / report on data collection
participants
key findings and secondary findings
Discussion: interpretation of the obtained results. Key findings:
relation of the key results to previous research
practical implications of the obtained results
limitations of the study and benefits
Conclusions: a good step-by-step research paper never reiterates the statements. It can include speculations or inferences. It includes the suggestions as for the following projects.

Acknowledgements: with the permission, you mention the people who helped you to know how to plan a research paper and contributed to your work.

References: you add the citations and reference the used materials.
More Tips to Follow While Writing
Use the words "how" and "why" to develop research goals and create a strong thesis statement.
Now you can focus on doing research.
Use only the most reliable, valid sources such as peer-reviewed journal articles and books.
You should also use credible websites.
As you are reading through your sources, make notes and use them to develop an argument.
Take evidence from your sources and use it to support your thesis.
Do not forget to cite and reference your sources.
Do not ignore opposing viewpoints.
Write several drafts, look through them, edit and review your paper before you submit it.
Research Paper Essay Sample
Go throught our helpful guide and you will see that developing a research question and setting research goals is not that difficult. You can become a pro at writing a research paper, if you know how to follow a proper research paper format. This being said, you must use academic or scientific language, be accurate and concise in your statements. Be ready to justify your approaches to studying the issue of your choice. Do not underestimate the importance of quality sources. Do not use any data that are confusing, outdated, or non-credible. Use scientific terms, but do not overload your paper with terminology. Reference and cite your sources correctly.
The main thing to remember is that you do not have to fill your paper with unnecessary information simply to meet the word count requirements. Also, you do not need to be too general or make writing a conclusion for a research paper based on irrelevant information. Finally, do not make a serious mistake by simply rewriting the original source. Analyze and cast a critical eye on every source you use in your research paper.